"ELEVATE" Prevention & Diversion Program!
(Course also available in Spanish)
We take the hassle out of finding a solution for a Prevention – Diversion & Early Intervention Program!
Easy to use – Effective – Restorative Justice Themed!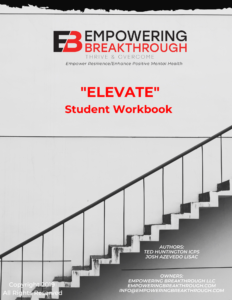 Great for:
Schools and Youth serving organizations
Teens and families who desire the Strengthen their communication and become Empowered with Tools & Resources to avoid high risk behaviors!
Course Description: 
Going BEYOND Current Practices!
The 'ELEVATE" course by  Empowering Breakthrough is a revolutionary program designed to educate and inspire teens and their families.
Our program curriculum was developed by professionals with a background in substance abuse, family counseling, law enforcement, and public service. The intended purpose is to "go beyond" topics addressed is current diversion programs. Focus on improving "Protective factors", address the thoughts, feelings & emotions behind the behaviors and strengthen family communication empowering stability and predictability in the home.
"ELEVATE" is an Evidence & Trauma Informed, Restorative Justice themed, inter-active course designed to empower teens and parent / guardians with knowledge & tools to divert High Risk Behavior and thrive in today's culture.  Thrive provides Prevention and Early Intervention methods for teens experiencing experimental & mild to moderate vape (e-cigarette) and substance use along with addressing challenges that lead to unhealthy behavior.
The "ELEVATE" model incorporates family attachment & management through designed break-out sessions that specifically focus on the teen and parent / guardian, along with intentionally promoting interaction & engagement of the course subject matter.
The program is offered in a variety of Options:
(Student focused version without the Parent / Guardian modules are available upon request)
For Schools and Youth serving organizations:
Module led course – Stand alone on-line – with Student Workbook, checkpoint quizzes, resource sheets and Certificate of Completion.
Module led on-line course – plus options to incorporate staff touchpoints and follow-up.
   In-Person facilitation –for Organizations to self facilitate – using provide materials (Train the Facilitator course required)
For Individual and Family use:    ON -LINE VERSION –  $49.99  ORDER NOW!
Module led course – Stand alone on-line – with Student Workbook, checkpoint quizzes, resource sheets and Certificate of Completion.
Train the Facilitator – for organization desiring to facilitate the course
themselves IN-Person
For more information and scheduling a Facilitator training visit the "Training / Facilitating – Diversion & Family Communication" page.
TRAINING / FACILITATING-Elevate-Prevention-Diversion Program
Contact us for Group or bulk orders and discounts!
  Email: [email protected]