"ELEVATE" Prevention & Diversion Program
Easy to use – Effective – Restorative Justice Themed!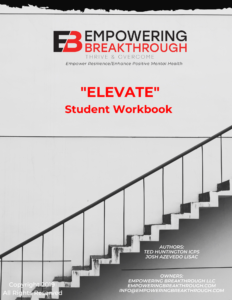 Great for:
Schools and Youth serving organizations
Teens and families who desire the Strengthen their communication and become Empowered with Tools & Resources to avoid high risk behaviors!
  $49.99    Single Purchase 
Course includes:
15 Student lessons and 12 Parent / Guardian topics
PDF Student Workbook (fillable & downloadable eBook)
Quizzes to insure understanding- Completion Certificate
Lessons led by Prevention Program Specialist
For Group rates and discounts - contact us 
Our desire is to provide Tools & Resources for Students and Families
Program Overview:
"ELEVATE" is an Evidence & Trauma Informed, Restorative Justice themed, inter-active course designed to empower teens and parent / guardians with knowledge & tools to divert High Risk Behavior and thrive in today's culture.  Thrive provides Prevention and Early Intervention methods for teens experiencing experimental & mild to moderate vape (e-cigarette) and substance use along with addressing challenges that lead to unhealthy behavior.
The "ELEVATE" model incorporates family attachment & management through designed break-out sessions that specifically focus on the teen and parent / guardian, along with intentionally promoting interaction & engagement of the course subject matter.
(for bulk orders, group rates, or discounted options due to funding challenges - please contact us - Empowering Breakthrough is passionate about equipping our teens & families with tools and resources to "Thrive" in today's culture)
Program Information
Audience
Most effective for ages 12 - 17
Diversity and Inclusion focused to include all audiences
Used by School Districts  – Youth Serving Organizations & Coalitions!
Effective – Engaging – Empowering
Topic Include
(STUDENT)
Managing Expectations of Course for self
Greatest Challenges - Getting Real
Influences
Communication with Parent / Guardians
Validation
Passions / Interests & Goals
Communication Activity
Understanding Behavior
 Identifying Emotions / Triggers
Coping Techniques
Support Systems
 Risk & Choices
Active Responsibility
Substance Misuse & Stages of Addiction
Real Testimony
(PARENT TOPICS)
Addressing Greatest Fears
Risk and Protective Factors
Reasons for High Risk Behaviors
Teen Influences
Communication
Healthy Boundaries
Substance Use- What to look for
Validation- 5 Love Languages
Student – Parent / Guardian Communication Activity
Substance use - Lesson Introduction
Teen Substance Misuse Overview & 5 Stages of Addiction
Real Testimony from a Real Teen Experience
Projected Outcomes:
Reduce Substance Use
Enhance Decision Making and Problem-Solving Skills that Inspire Healthy Alternatives to Risky Behaviors.
Empower Greater Self-Esteem & Confidence
Improve Teen - Parent / Guardian communication
Proven
(90% Reduction in Substance Related Offenses & 90% Reduction in Tobacco / Vape related offenses after course completion – Willis JR High, Chandler, AZ)