Course Description: (English & Spanish E-Course Options) ORDER NOW!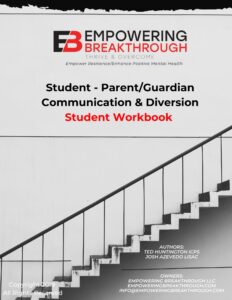 "Thrive" is an Evidence & Trauma Informed inter-active E-Course designed to empower teens and parent / guardians with knowledge & tools to divert High Risk Behavior and thrive in today's culture.  Thrive provides Prevention methods for teens experiencing experimental & mild to moderate vape (e-cigarette) and substance use along with addressing challenges that lead to unhealthy behavior. The Thrive model incorporates family attachment & management through designed break-out sessions that specifically focus on the teen and parent / guardian, and sessions intentionally designed to promote interaction & engagement of the course subject matter.
The "Thrive" model is intentional about creating a positive atmosphere that addresses the behavior while allowing for restoration practices that encourage the participants to see their value, focus on solutions, take active responsibility and internalize healthy life styles.
"Thrive" topics include vision, validation, risk assessment & positive choice making, emotional regulation / coping skills, pro-social involvement, managing outside influences, core / moral values, effective communication, boundaries, positive mindset, taking responsibility, substance use & dangers, and creating a family action goal plan.
"Thrive" incorporates inter-active discussion, worksheets, break-out sessions, testimony from a teen in recovery, homework assignments, a comprehensive family prevention plan and resources.
References:
2018 Arizona Youth Survey (Arizona Criminal Justice Commission
2018 School Substance Abuse Prevention Program Inventory (Governor's Goal Council on Healthy Families)
Monitoring the Future 2016 Survey
CDC (Center for Disease and Control) Website
SAMSHA (Substance Abuse and Mental Health Services Administration) website
Author:
Ted Huntington –
(CEO) Empowering Breakthrough LLC
(ICPS) Internationally Certified Prevention Specialist
Retired Law Enforcement & AZ P.O.S.T Subject Matter Expert
Licensed Pastor
Internationally Certified Prevention Specialist (ICPS) through the
International Certification & Reciprocity Consortium" & "Arizona Board for Certification of Addiction Counselors"
Arizona ACE Consortium Trauma Coach for Coalitions
Certified Trauma Support Specialist (CTSS)
Manage the Chandler Coalition on Youth Substance Abuse
Manage the Chandler / Gilbert Substance Use & Treatment Task Force
Consulting Partners:
Josh Azevedo
(Licensed Independent Substance Abuse Counselor / Certified Addictions Counselor Level II
(Owner / Program Director) The Pathways Program
Scott Nelson –
(PhD) licensed psychologist, and certified school psychologist
Background of the problem  (support letter and client) GPS contracted this course through the GOYFF Health & Wellness Grant for 2018-19 & 2019-2020 school years.
For years school agencies have been combating tobacco, alcohol and drug use with teens at the secondary levels.  Throughout the years, the school system has taken on several prevention programs that have had varying degrees of success.  Most of these programs had/have a focus on how drugs affect the body.  Some of the programs touched on why people choose to try the substance. However, many of the programs failed to produce the desired outcome.
Despite the varied success, the research still supports school-based drug prevention programs. According to a brief published by the Drug Research Center (dprc), it states that "School-based drug prevention is… a cost-effective tool for improving public health and for making incremental progress in the efforts to manage mature drug epidemics…"  (Caulkins, et al, 2002).  The one thing that most can agree on is that being an informed consumer has the largest effect on the decision to continue using.  However, being informed is not what the drug/substance/alcohol does to the body; we must also take into consideration the teens' mental welfare.  Out teens today are faced with unique, mentally challenged situations that have a strong correlation to the decision to use.  In a brief from the National Institute on Drug Abuse 16 prevention principals are identified.  The first principal states that drug prevention programs "…should enhance protective factors and reverse or reduce risk factors." Another principal specifically identifies that high school education programs "…should increase academic and social competence…" which include communication, peer relationships, self-efficiency, drug resistance skills, reinforcement of anti-drug attitudes, and strengthening of personal commitments (NIH, 2003).  It is the combination of both being informed and addressing mental health needs that will prove a larger success rate in reducing repeat offenders at the high school level.
(Marguerite Brown, Assistant Principal- Mesquite high School, Gilbert, AZ)