Speaking & Facilitating
Inspirational Speaking
Speaking
Ted has been blessed with the opportunity to speak to thousands of teens and adults every year.  He has the ability to relate and connect with multiple generations and cultures.  He is comfortable with, and has experience, speaking and relating in a personal manner that is felt with his passion for God and people. Ted has a unique blending of working in both secular & faith based areas and is able to translate the message effectively for both. Ted feels that he is always blessed by those he shares with and receives a double portion of Breakthrough right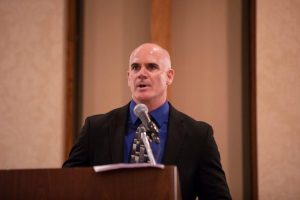 back!
Ted is the creator of the THRIVE Resilience for Teens program being used by school districts and youth serving organizations throughout Arizona, reaching thousands of teens.  THRIVE recently launched in California and is expecting to launch in a variety of states this year.
Ted also facilitates Empowering Breakthrough Productions where he and his team create & publish curriculum, training, interviews and encouraging videos.
Ted would love the opportunity to share & partner with you as you Empower others to "Thrive & Overcome!"
LinkedIn profile: Ted Huntington - Linkedin