"Thrive" Resilience for Teens E-COURSE!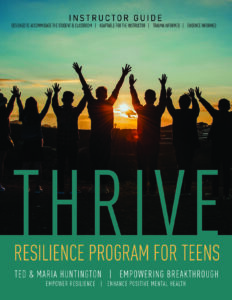 Empower your Teen with tools & resources to
"THRIVE" in Today's culture
The official "Thrive" Resilience Program for Teens curriculum – transformed into a dynamic and engaging E-Course!)
(FOR A LIMITED TIME!)            $49.99    Single Purchase             ORDER NOW!
For Group rates and discounts - contact us 
Our desire is to provide Tools & Resources for Students and Families
Try Lesson #1 - "Stress & the Body" FOR FREE! 
9 lesson – full course with:
Lessons led by Program Specialist
Viewable Student Workbook
Viewable single lesson Student worksheets
videos-quizzes to insure understanding- Completion Certificate
Suggested package for ultimate benefit
(E-Course + Hard Copy / Printed version or downloadable E-Book)
Purchase the Single copy- Student Workbook or E-Book (Printable version) to accompany the E-Course.
For teens to maximize their learning experience, have all 9 complete lesson in one format & place for easy access and future references, and to have access to additional resources and tools that are included – purchase the printed hard copy or the downloadable E-Book version for your teen to use as they go through the E-Course lessons!
For Facilitators & Educators
(For discounted group rates / bulk orders contact us - our goal is to provide tools and resources for Teens & Facilitators)
THRIVE is designed for to be Dynamic, Adaptable & Accommodating for the Facilitator and student!
WE DID THE WORK so YOU DON'T HAVE TO!
Use the E-Course as a "Stand Alone" program facilitating the lessons - or:
Use the E-Course as a "Stand Alone - Complete" Program
Co-present using the virtual instructors and videos - with facilitator follow-up to clarify / expand or initiate discussions.
Combination using Hard Copy and adding the E-course videos as a supplement to clarify / expand or initiate discussions.
Any combination that fits you and your student's needs.
Program Overview:
 "Thrive" is an Evidence & Trauma Informed inter-active course designed to empower teens with knowledge & tools to thrive in today's culture.  Thrive addresses the challenges facing high school teens with a focus on the Risk and Protective factors that promote positive choices and healthy habits.
The "Thrive" model is intentional about creating a positive atmosphere that addresses unhealthy behavior while encouraging the participants to see their value, focus on solutions and internalize healthy lifestyles.
Program Information
Audience
Most effective for ages 12 - 17
Diversity and Inclusion focused to include all audiences
Used by School Districts- School Resource Officers – Youth Serving Organizations & Coalitions!
Effective – Engaging – Empowering
Topic Include
Stress & the Body
Identifying Emotions
Sense of Purpose—Strength of Character
Influence
Risk & Choices
Optimism
Taking Active Responsibility
Substance Misuse & Just the Facts…you decide.
Resistance Skills
Projected Outcomes:
Enhance SEL (Social Emotional Learning) Competencies.
Reduce Substance Use
Enhance Decision Making and Problem-Solving Skills that Inspire Healthy Alternatives to Risky Behaviors.
Empower Greater Self-Esteem & Confidence
Proven
(66% Reduction in Substance Related Offenses & 40% Reduction in Tobacco / Vape related offenses after course completion – Willis JR High, Chandler, AZ)